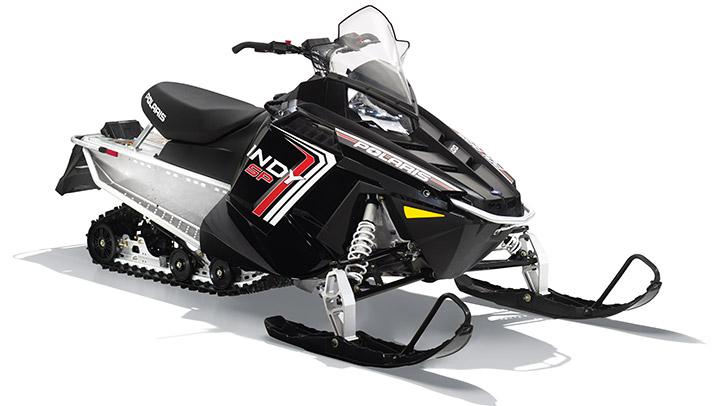 Last April we had a late season heavy snowfall and we went out for one last ride  where my 2001 Indy 500 went to be with Edgar Hetteen in Polaris Snowmobile Heaven. 
Up to this point every snowmobile purchase I had ever made had been a used sled, but now, with the work I do for snowmobiletrail.com, the miles that I need to put on my sled every year made buying my first ever new sled a logical choice.  Luckily with the wide array of people I ride with every year I get to spend time on numerous fairly new sleds.  I had the opportunity in 2013 to ride one of the new Polaris Indy 600 SP's and I instantly fell in love with it. I'm six foot four and the set up of the Indy fit me perfectly and made transitioning from sitting to standing a breeze.  The combination of the Pro Ride front end with the traditional enclosed coupled rear suspension gave me exactly what I was looking for.  I knew that the local Polaris dealer had some 2013's still left in stock from the previous winter so I ran out to cash in on a noncurrent deal.   Unfortunately the heavy snowfall of the 2013-14 season had wiped out the dealers back stock of 2013's and also their 2014's, so I waited until the annual Spring event and negotiated a sweet deal for a 2015 Indy 600 SP.  So yes, you can all blame me for this year's horrible snowless winter, because I am cursed. I waited all summer for my sled to arrive and then waited all winter to ride it.  So for what little snowmobile time I did get in this year, here is my review of the 2015 Polaris Indy 600 SP. 
FROM OLD SCHOOL TO NEW SCHOOL
            First let me preface this review by saying that I am coming from the old school of snowmobiling.  I started riding on a 1972 Ski-Doo Olympique and upon returning to the snow-belt and reentering the snowmobile world full time in the early 2000's I started off with a variety of late 90's model sleds.  When the first rider forward models came out in 2003 I was not a fan. I thought they looked too pointy and I just couldn't get used to it, but then I rode my buddy's 2007 Ski-Doo Renegade and was blown away by its capabilities. 
When Polaris brought back the Indy in 2013 their target demo were people like me: guys who loved the Indy in its heyday and wanted something more traditional looking than the Rush models and didn't want to spend a fortune for a new sled.  They wanted their Indy loyalists to make the jump from their reliable previous era Indy's to the new Indy models.  They even went as far as to keep the color schemes similar.  Well, chalk up one for the Polaris brass because their ploy worked!  So for all of you old Indy guys out there this review will be very helpful to you as it is written by a guy who begrudgingly joined the 21st century.  Statistics also show that I am not alone in my stubbornness to move on as 50% of the registered sleds on the trails still employ the "traditional" snowmobile design.  If you are in that 50% and are contemplating the switch this review will address many of your reservations.
SPRING BUY OPTIONS
            There were a couple of options available in the 2015 Indy line for the spring: the base Indy, the SP (with upgraded hooked handle bars, Fox Shocks and a slightly deeper lugged track) , and then the 60th Anniversary Edition (a few more bells and whistles and all of the options that you had to pay for on the other models as standard accessories).  I went with the 600 SP because I didn't want to pay the extra for the 60th anniversary model (even though I liked the idea of the 1.25" track) and I liked the bad ass black and red color scheme.  As part of the spring buy deal I received $600 worth of accessories.  The first item on my accessory list was a cover and if you think the sleds have come a long way, let me tell you, the covers of today are a far cry from the standard canvas cover from the recent past.  I also filled the usual accessory needs: a spare drive belt, and a big jug of oil. Then came the three options that I really felt I needed on the sled:
MIRRORS:  I ride with my daughter a lot and being a typical concerned dad I like to make sure I'm not getting too far ahead of her, I also ride with several large groups of people during the season and I really like seeing who's behind me.  I ordered the hood mounted mirrors because the windshield ones are hideous and they vibrate so badly that you can't see anything.  I had visions of my older Indy's and their excellent hood mounted mirrors.  Here is my first complaint about the new Indy- the hood is so narrow that the hood mounted mirrors line up with your hands on the handlebars and you can't see anything behind you. If I would have known how useless these mirrors are I would have never gotten them.  They lack any real meaningful adjustability and are virtually worthless and unnecessary.  Polaris could definitely put some effort into the mirrors to at least get the lens enough maneuverability to aim them somewhere other than your hand. Later on I rode one of my buddy's sleds with the Windshield mounted mirrors and although I still think they look awful, they are more effective
WINDSHIELD:  I also got the mid height windshield to cut down some of the wind without going crazy and getting the monster shield.  Unfortunately the mid height windshield is just slightly less useless than the low windshield.  This is a cold snowmobile.  Now to be fair this complaint is not unique to Polaris, it seems unless you are riding a touring or utility model the manufacturers want you to freeze your ass off. Even with my heavy FXR gloves and hand warmers on full bore my fingers were getting cold when the temperatures fell below zero. I'm probably going to have to get some of the muffs to put over my hands to ride on the most brutal of cold days.  The other issue with the bigger windshield is that on really sharp turns my hands would hit it- obviously this can be changed by adjusting the bars back a bit but then I sacrifice comfortable hand and arm position.  The windshield is warmer than the nonexistent regular windshield but overall, wind protection is lacking
TUNNEL BAG:  I also sprung for the tunnel bag and I love it.  Originally I was kind of miffed that you have to pay extra for storage and thought it should come standard with every sled, but now with all of the storage options you have available, it makes sense for you to customize your storage situation even if it costs a bit extra.  Comparing this to the storage I had on my Indy 500 is like night and day- the 500 had no room for anything, this tunnel mounted bag is outstanding!
OUT ON THE TRAIL
 The trail.  Where the rubber meets the snow.  That's what a review is all about.  Unfortunately snow was the one thing we didn't have a lot of so I didn't get a chance to put the sled through as much as I would have liked to.  But here is what I did learn: 
HANDLING: Obviously compared to the old style sled there is no comparison here, that is the major advantage of the rider forward design and the handling advantage of the rider forward technology is enhanced with the Pro Ride front suspension, what I consider to be the best front end set up in the industry.  It has the perfect balance of stiffness and flexibility to keep the skis planted and give you maximum control in all trail conditions.  It handles everything from big rolling moguls to washboard trails.  No matter how poor trail conditions get you will never experience anything being telegraphed up to your hands.  This sled handles so well around the corners that you find yourself effortlessly and unintentionally pulling away from your buddies behind you.  It's just so smooth and effortless that you don't even notice that you are handling corners far quicker than everyone else.  Before buying this sled I had considered getting the 1.25" lugs as I thought it would be the perfect match for on and off trail capabilities, but after a year of riding I feel the 1.25" lugs would hurt this sleds performance around the corners because the track would have a little too much grip to follow the skis as easily as it does now, that being said it still lends itself to sliding out in icy corners so studs on this thing would really make it handle like nobody's business.
REAR SUSPENSION:  The one thing I forgot to mention about my 2001 Indy is that it had an aftermarket snocross suspension set up, giving it crazy jumping and big mogul ability. It was great for ditch banging and good at handling the big stuff, but in stutter bumps it was so stiff that your internal organs were often rearranged after a day of rough trail riding.  The 2015 Indy did a great job of chewing up even the worst trails and smoothing them out.  We tackled some really nasty moguls and although you took a beating the sled handled them much better than the old backbreakers did and the transition from sitting to standing is so easy that yo can prepare yourself for the really big hits. I did bottom it out a few times but I think if I crank it u some more I can keep that to a minimum. I was also unable to test this sleds deep snow capabilities as we had no deep snow and no boon docking opportunities.  I will update this part of the review next winter.
ENGINE: Top speed on this sled floats right around 90-95 MPH. It has a very smooth acceleration and doesn't want to straighten out your arms or throw you off the seat when you hammer the throttle. I put this thing head to head with my 2000 Indy 600 Touring sled and was surprised to see the 2000 carbed Indy smoke the 2015 off the line and reach top speed much quicker. I also never got a hair over 12 Miles to the gallon for the season, which isn't bad but also doesn't compare to what you can get out of a Ski-Doo 600. The oil consumption is ridiculously light. It uses so little oil I often wondered if it actually was a two stroke. This is good because a big jug of oil sets you back $50.
OVERALL FIT AND FINISH:  I love the seat on this sled, to me it is about as perfect a combination of firmness, width, length, height and grippiness.  The headlights are very bright and adjustable which is a great thing.  This sled comes with hooked bars and adjustable throttle, brake, and control pod.  I love the adjustability of setting up all of your handlebar control pods however you want them.  With all the adjustments you can make, most people can get really comfortable, but for me I wasn't happy with the hooked bars- yes, they are nice in the corners but the bend in the bar seems to come a little bit too early. I'm a big guy and the bars fit just right in the showroom but once I put on my gloves, part of my hand is hanging over the bend in the bar making my overall hand position uncomfortable and the throttle pull taxing on a long day.  It would probably be fine with less thick gloves but as I stated earlier you need a good pair of gloves to ride this thing in below zero temps or they will be cutting off the tips of your fingers.  The gauges are a bit off putting as well- just a standard analog speedo (which I actually prefer over the hard to read electronic gauges) but  Polaris combined the analog speedometer with a digital odometer which at times is hard to read depending on sunlight.  The numbers are too small and not bold enough for my tastes.  They also give you a digital engine temp and RPM gauge but use the old gas cap fuel gauge.  This combination of old and new school stuff is confusing and at times seems silly.  I have no problems with the analog gauges but why combo them up with digital gauges?  Why not make everything analog and have a good old fashioned gas gauge on the dash?  Aren't we beyond fumbling with the ridiculous gas cap fuel gauge? And that brings me to my last gripe, which is a cheesy snap on collar that goes around the big center do all gauge.  This thing pops off all of the time and is horribly annoying to have to constantly snap back on.  The ignition switch is also in a weird place because if you use any sort of key fob (which we all do) it bounces around and at times blocks your view of the do it all gauge.  
OVERALL IMPRESSION: A the end of the day I love this sled, its darn near perfect.  The ride is fantastic and so far I have had zero mechanical issues with it.  The only thing I suggest to Polaris is to get your gauges and accessories worked out a little better.  If you took this sled and put my 2000 Indy 600 Touring sled dashboard, windshield and mirrors on it this sled would be close to perfect.  All in all if you are one of those guys hanging on to their old Indy and are reluctant to make the jump all I can say is go ahead and do it, you'll be glad that you did. I also think if you are getting into an Indy I would definitely spring for the SP because the shock and track package make it a hands down better sled than the baseline Indy.  $1,000 better?  Maybe not but it's still worth all of the fun you'll be having. Also, once you have been on this you understand why the rider forward design changed the world. You can rack up huge miles on this sled and not even feel it. Once you go from this back to a traditional style sled you wonder how it was that you ever rode one of those dinosaurs- yes, they were great machines for their time but going from that to a modern sled is the equivalent of going from dial up to high speed internet, there simply is no comparison.