Trail Update- We don't really have to do trail updates this year because we've had 80 inches of snow so far and its been so cold that practically none of it has melted. Lets just say that everything in the Arrowhead is awesome- quite frankly none of us can remember when the trails have been so consistently perfect, unfortunately temps that constantly range in the twenty to thirty below zero range makes riding a little less enjoyable.
Once in a while you hit the trail just because you feel like going for a ride and you really don't have a specific agenda, but most of the time you have a plan, whether it be a specific route or destination. This is why we have started our latest blog feature called "Destination" where we highlight a location that you can build your trip around. Some of these places you will have heard of, but some of them you have not. In our hours on the trail we run across some obscure places that most riders don't even know exist. As the Northeast Minnesota snowmobile blogger it is my job to let everyone else in the state know about the must sees when they come to our neck of the woods. It is our mission at snowmobiletrail.com to help maximize every snowmobiler's enjoyment of the sport, that is why we are always adding new features and new data to the site and why we have created the "Trail In Focus" and "Destination" features on the blog. Our first "Destination" feature is on the Trestle Inn, perhaps the most iconic stop in all of Minnesota. As the website that was created by snowmobilers for snowmobilers we felt it only fitting to highlight the place that coined that very phrase: "Built by snowmobilers for snowmobilers," The Trestle Inn.
A BRIEF HISTORY
If you have ever been on a snowmobile in Northeast Minnesota you have undoubtedly heard of the Trestle Inn, unless you have been living under a rock. As I mentioned in my previous blog about the North Shore State Trail, the DNR's original plan was to build a trail from Duluth to the Canadian border, theorizing that once the trail was completed it would result in locals getting together to build a system of feeder trails. They were correct in their assumption. Two huge snowmobile enthusiasts Lee Schumacher and his son Kurt were pivotal in punching a trail from their year round home and business, the Crooked Lake Resort, to the North Shore State Trail. In the Process they came across an old railroad trestle that was part of the old logging railroads that used to traverse the area in the early 1900's. With permission of the DNR they disassembled the trestle and hauled the timber to their resort. With the later completion of the Tomahawk trail which runs from the NSST to Ely, the Schumachers decided to put the old railroad timbers to good use and build a place for snowmobilers to stop and relax on their long treks. In 1985 the Trestle Inn was completed and as the Schumacher's predicted was soon over run with snowmobilers. For a more detailed history you can read the complete story online at www.trestleinn.com
KEYS TO SUCCESS
The Trestle Inn owes its success to a number of factors One major contributor is its location: right on the iconic Tomahawk rail, and when we say right on the trail we literally mean it – the trail runs through the Trestle Inn Parking lot (a parking lot that rarely sees a car). Second is the atmosphere- this place was built for snowmobilers and they pride themselves on that fact- if you were to drive to the Trestle Inn in a car or truck in the middle of winter it would be kind of like the guy that gets his Picante sauce from New York City, everyone stops and looks at you like you are some kind of freak. And lastly is the food- in the business of pleasing snowmobilers you have to have some good grub to keep them happy and the Trestle Inn delivers like no other.
OUR TRIP TO THE TRESTLE INN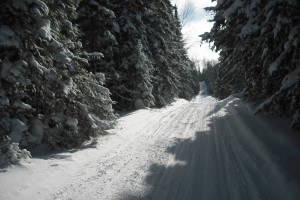 When we decided to make a run to the Trestle Inn we wanted to get the most out of our day so we trailered up to Finland and launched our sleds at the CJ Ramstad North Shore State Trail. The section of the NSST from Finland to the Tomahawk intersection is a staff favorite and we try to start our rides from there at least a few times a year. Once you get on the Tomahawk you are in snowmobiler paradise- long stretches of pine lined trails that flow over gently rolling terrain. Before you know it your at the Trestle Inn amidst a slew of other sleds. It looks big from the outside but it is surprisingly cozy on the inside. As with all good snowmobile bars there is a place for your gear, beyond that is the bar and a few tables and then the kitchen. The second floor is home to a large banquet room that can be reserved for large groups or events.
We sat at the bar and perused the menu- all of the regular fare: burgers fries etc but then as you neared the bottom of the menu you see the Train Wreck- a beef patty and a bratwurst patty- with bacon sandwiched in the middle and the whole thing is covered in cheese- we couldn't pass that up. When the bartender came to take our order he asked if we wanted our Train Wreck with Casualties. "What's the Train Wreck With Casualties?" my buddy asked. "It's the Train Wreck… With Casualties." Well that cleared things up. We eventually figured out that the Train Wreck With Casualties is the Train Wreck burger with whatever else the cook wants to throw on it. I wasn't feeling too adventurous so I stuck with the regular Train Wreck- my buddy got the Casualties- and let me tell you there were lots of Casualties. He ate the thing with a fork and knife all the while saying out loud "How can I eat this thing?" I watched in awe as he shoveled in fork full after fork full. "I know I should stop but its too damn good," he said- and he ate the whole thing. We thought it was best to sit for a while and let some of the casualties work through his system before we hopped back on the sled.
We spent the next half hour people watching. There was an endless stream of riders coming and going. This truly was a snowmobile haven built for snowmobilers by snowmobilers.
Eventually we got back on our sleds and enjoyed some more of the trails in this part of Minnesota that gets more snow than almost anywhere else in the state. It was one of those days where you could have just kept riding and riding but unfortunately we had other obligations to attend to and eventually we reluctantly returned to our trailer and went home.
What did we learn from all of this? First that a trip to the Trestle Inn needs to be on every snowmobiler's bucket list if nothing else just to ride the Tomahawk Trail- and secondly that there can be a lot of casualties in a Train Wreck!