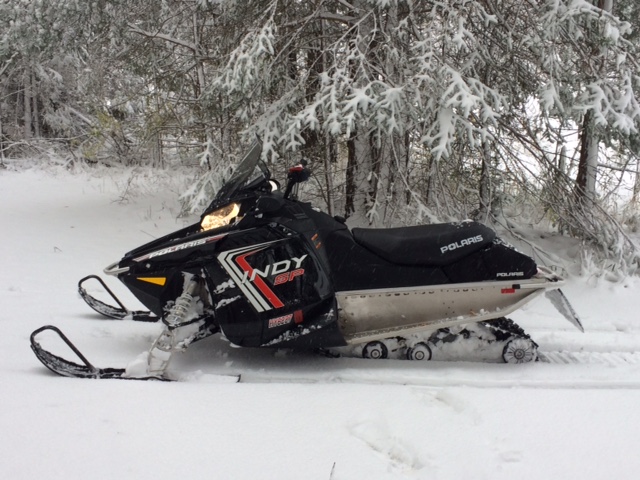 With the recent eight plus inches of snow that fell in Northeast Minnesota on October 27th the natural inclination among Northern Minnesota Residents was to harken back to the 1991 Halloween snowstorm that dumped 39 inches of snow on Duluth and kicked off one of the longest snowmobile seasons ever in Minnesota, but is early snow always a good thing?  Today we look at the pluses and minuses of winter coming early. 
            BRUSH:  Heavy wet snow can cause huge problems with trees and brush being weighted down leading to  lots of branches, trees, and debris covering the trail.  When heavy snow causes major tree failures t can take weeks or even months to get trails open again.
             SWAMPS/ WETLANDS: The number one complaint about early snow is that the swamps and wetlands haven't frozen yet and with early snow cover acting as insulation they may not freeze all winter.  This problem was mostly avoided in 1991 for a number of different reasons, for one the ground was cold and dry when the snow started so the snow stuck right away and did not trap a lot of moisture in the ground.  Secondly 39 inches of snow is so much snow cover between a snowmobile and the unfrozen swamp below that the lack of freezing didn't matter.  Frozen lakes and swamps are essential for safe riding and thin ice covered by snow doesn't get adequate time to build up and create a safe stable surface.  On the flip side, however, some snow over a swamp can be a good thing- it allows a groomer to pack the snow into slush which then freezes when it is exposed to the cold air and creates a hard cement like surface that is a perfect base for grooming.
                GRANT-IN-AID TRAIL DATES:  In Minnesota, the Grant-In-Aid trails which make up the majority of the trail system, don't open until December first- which means if you normally ride on a Grant-In-Aid trail, early snow doesn't do you any good, because it is illegal to ride on those trails until December 1st, however the state trails are technically open as soon as there is snow to ride on, they may not be groomed but they are rideable.  The only problems that you may have would be state trails that cross the aforementioned swamps that aren't frozen.
                A GOOD BASE:  Early snow can help create a good solid base, especially on higher terrain that isn't affected by swamps and moisture. Snow likes snow- so once there is early snow on the ground, any snow that falls on top of it is likely to stay as well. Early snowfall that doesn't melt can lay the foundation for a fantastic riding season as it created a good base for the groomer to work with as the season goes on.
                CHICKEN SOUP FOR THE SNOWMOBILERS SOUL:  The best thing about early snow is that it gets your snowmobile blood pumping right away.  Instead of agonizing well in to December wondering if it is ever going to snow, you instead wake up every morning and there it is, waiting for you or waiting for even more snowflakes to fall and make life that much better.
                REGISTRATIONS AND PURCHASES:  The two groups that love to see early snow the most are snowmobile clubs and snowmobile dealers.  Money is provided to the clubs for grooming and maintenance from the registrations collected by the state.  We all know how bad snow years put snowmobile trail funding in a big bind.  The same holds true for snowmobile dealers, obviously you need snow to ride a snowmobile and lack of the white stuff means lack of sales for the dealers.  A good early storm followed by cold temps send people flocking to the dealer to buy new sleds and registrations go through the roof.  The more it snows the more sales and registrations go up.  This is a classic case of FOMO- fear of missing out.  If you have even a little bit of snowmobile blood in you the sounds of your neighbors cruising by your house on their sleds force you to get off the couch and get your own snowmobile world in order.  No one wants to sit inside as the snow keeps piling up outside, and that is what has made snowmobiling the wonderful sport that it is, snowmobiling gives you the keys to freedom that let you be out in the glory of winter instead of being a hermit until spring.  So since the snow has come early go out and fire up your sled, the trails will be calling soon!