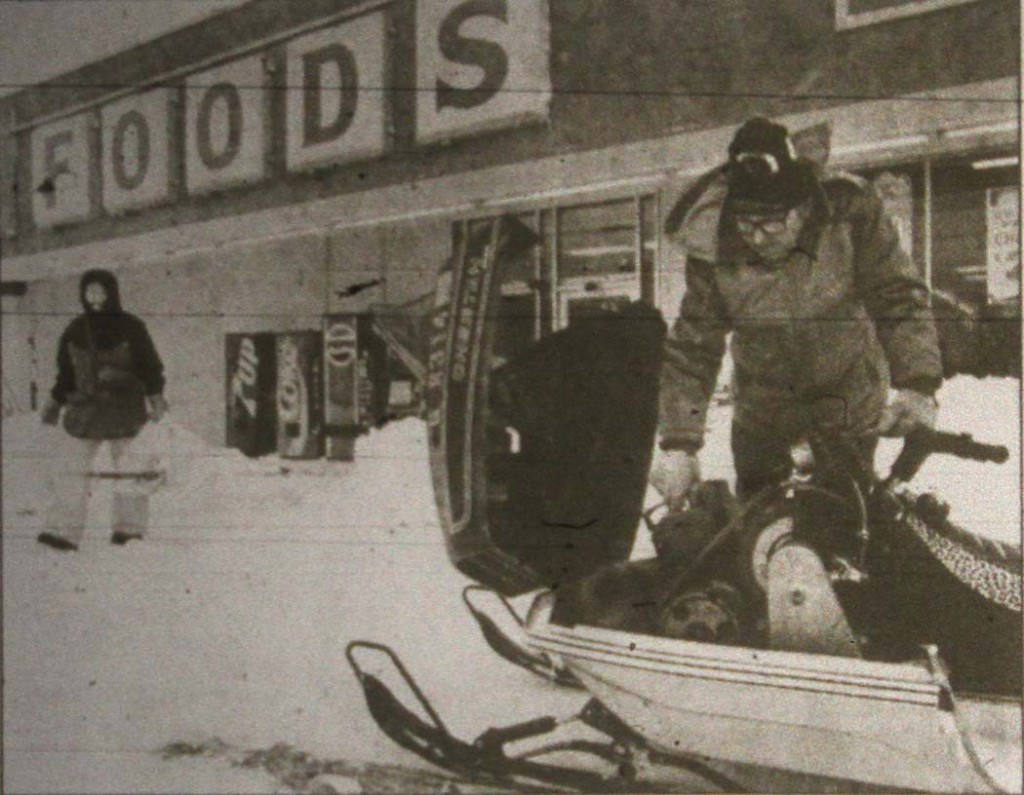 Some snowstorms are common, some are a little more severe, some are memorable, but only a select few become legendary.  The Halloween snowstorm of 1991 is one such storm, it started on Halloween which helped add to its lore, it was virtually completely unexpected, and it was the single biggest snow total in the state of Minnesota's history (Until it was eclipsed just ten years later by a fluke lake effect storm in Finland).  But most importantly for our purposes here, it crippled a city and thrust the snowmobile back into prominence as the only reasonable mode of transportation and single handedly helped revive the ailing snowmobile industry.  This is my personal firsthand account of perhaps the most famous snowstorm in Minnesota History.
            Although I was born in New York City, my parents moved to Duluth, Minnesota when I was just six months old.  There was an Air Force base here then, and my grandfather was stationed in Duluth and absolutely loved it.  My parents wanted to escape from the big city so they settled here to be close to family.  I grew up riding snowmobiles at first with my parents and later with my neighborhood friends.  As I reached adulthood I joined the Air Force and was stationed in Sacramento, California, not much of a snowmobiling hotspot to say the least.  After my stint in the Air Force was over I returned to Duluth with my wife to attend college at the University of Wisconsin Superior. We rented an apartment in downtown Duluth so there wasn't room in our lives to own a snowmobile, plus we were poor college kids which really put snowmobiling out of reach for us.  October had been a fabulous month and when Halloween rolled around we were all still on cloud nine from the Twins winning the World Series.  The forecast was pretty generic in the morning- maybe a little rain and maybe a little snow for the kids Trick-or-Treating, but nothing that would hamper their quest for candy.
            As my wife and I sat in class at about one o'clock in the afternoon someone said "Hey look it's snowing."  We looked outside to see some light flakes falling on the sidewalk but it was a little too warm for them to stick.  By the time we left school the temperature had dropped and snow started accumulating on the roads and soon traffic slowed in the icy conditions.  I had to work that night and as I drove to work the forecast on the radio now said that we could get 1-3 inches of snow.  No big deal.  By five o'clock there were vampires and princesses heading out Trick-or-Treating decked out in snow boots with snowmobile suits under their costumes and passing porches lined with Jack-o-lanterns covered in snow.  I returned home from work and my friend Allen stopped by for a beer. We watched the ten o'clock news to find out that they had upgraded us to a winter storm warning and were now predicting 4-6 inches of snow, again no big deal for Duluth.  At 1:00 AM Allen left my apartment and we were shocked to see a foot of snow on my porch.  "This is a lot more than 4-6 inches," he said, "I'd better get home."  When my wife and I went to bed, I fully expected to wake up the next morning, dig out my car, and go to School, but when I woke up I was shocked to see fifteen inches of snow on the ground and all classes cancelled.  The snow was falling harder than it had been the night before and by the time the sun was going down there were over twenty inches of snow on the ground.
The next morning I woke up expecting to see the plows and life returning back to normal- instead, I opened the shades to find it still snowing and storm totals approaching 30 inches.  Instead of a plow going by I watched a snowmobile cruise past, then another, and another.  It seemed cars were now an impossibility and the only thing moving were snowmobiles.  There were so many in fact that stoplights were now controlling snowmobile traffic, I had never seen anything like it.  Being an avid snowmobiler conditions like this were something that I always dreamed about but now here I was trapped in my apartment with snowmobiles buzzing up and down the street torturing me.  The rest of that day and night was ruled by snowmobiles with all of the parking lots of downtown bars and grocery stores full of sleds.  Snowmobiles lined up at the gas stations for fuel and the entire city was their playground. It was like living in a remote Alaskan town where cars are nonexistent.  We continued to watch the snow pile up until it finally ended on November 3rd with an impressive 36.9 inches on the ground and drifts in some places ten to fifteen feet high.  It was then that the digging out began.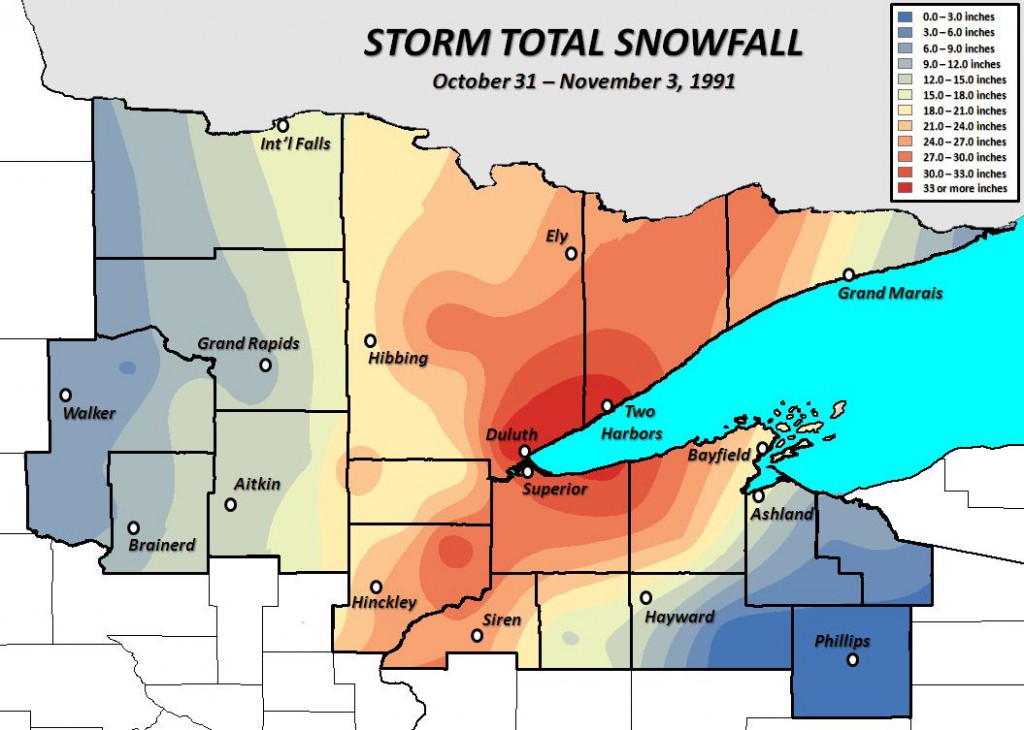 So what caused all of this and why did the weatherman fail to predict this storm?  It all started with a low pressure system moving up from Texas and heading due north where it met a cold air mass dropping out of Canada.  The Low gathered strength as it worked its way north and was fueled by warm moist air it was sucking up from the Gulf of Mexico.  The clash of warm moist air from the south and cold air from the north produced ice in Iowa and snow in Minnesota but it when it reached Duluth that's when things really got interesting.  There was a blocking high in the East which held the low pressure system right over Lake Superior, allowing it to pick up moisture and dump it right on Duluth, like Lake effect snow on steroids.  It took Duluth weeks to recover.
The interesting byproduct of this storm was it effect on the snowmobile industry because after this storm the snow just kept coming: another thirteen inches in November creating a fifty inch base.  Local snowmobile dealers sold out of inventory and this started a sales explosion for the industry that would last for a decade. Fueled by a multiple seasons of good snow, sales climbed to a peak of 260,000 units in 1997, and it was all started by the Halloween Snowstorm of 1991.  Since then snowmobilers anticipate the arrival of Halloween because they know that once the calendar hits October 31st a snowstorm can happen at any time. Will this winter bring another legendary early season snowstorm?  We can only hope.