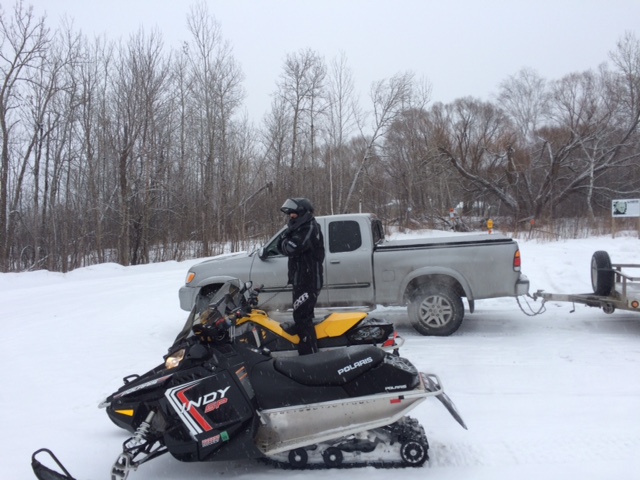 Today on the trail we met- us.  We were the first ones in the parking lot and were greeted by falling snow and a trail that hadn't seen any snowmobiles since it was groomed on Thursday.  Even with the new snow, the trail out of Duluth was pretty thin and there were some areas with grass, dirt and leaves poking up through the snow, but for the most part the trail was pretty enjoyable.  There were also some thin areas where logging operations were taking place and in some high areas where the wind had blown off the snow.  We also encountered some big divots in the trail at the bottom of some hills and several stretches of icy trail.   The snow conditions were all over the map today- some places had tons of snow where others only had a few inches but overall I would rate the trails as being in "good" condition.  We had one stretch where it was snowing so hard that combined with the snow dust kicked up by the lead sled visibility was virtually zero.  Riding while it is snowing just puts the fun factor off the chart and today was no exception.
Our biggest surprise of the day is that we rode for almost 60 miles before we saw another sled and even then all of the traffic was confined to the trails around Two Harbors. Granted it was only 5 above zero but still we expected to see more people out.  The other bit of unusualness is that when we did finally encounter other sleds it was around the Two Harbors area- and when we say we encountered sleds we mean there were a lot of them.  I'm not sure if all of those snowmobilers were just slews of Two Harbors residents out enjoying the day or if it was a bunch of people spending the weekend there and riding from their hotel.  Either way, it shows that the community of Two Harbors has embraced the sport of snowmobiling and they are generating a lot of revenue to be sure.
We hope the snow keeps coming so they can finally open up the Duluth area GIA trails, otherwise everyone will have to keep filtering north.