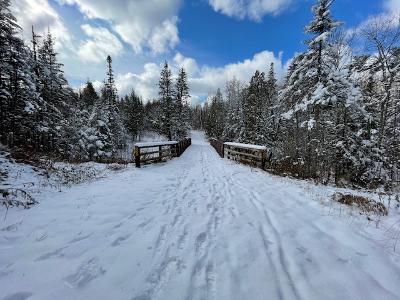 Covid-19 made its appearance in full force at the tail end of the 2019-20 snowmobile season.  As the season came to an end, stay at home orders were put in place across the Snow Belt.  For years, public health officials had decried that Americans spend far too much time indoors and encouraged everyone to pursue outdoor activities.  Those pleas fell on deaf ears as more and more Americans wasted away in front of computer screens and cell phones.  Then in April we were told that everyone needs to stay home, stay indoors and watch TV and play video games and surf the internet, so just like a child that gets told they can't have a piece of candy the general public revolted and became obsessed with being outdoors.  Record sales were seen in the RV, Boat and ATV industry as families decided to social distance in the great outdoors and as winter approaches the Snowmobile industry is experiencing the same enormous increase in demand with many dealers selling out of any sleds they had in stock.  And it's not just new sleds flying out of the showroom, used sleds are in high demand and many old dusty pieces of iron out in the barn are being dusted off as registrations for older sleds have seen a giant surge and shops have been flooded with old Indy's and MXZ's needing some touch ups to be brought back to life.  Dealers and parts houses nationwide are running out of parts as the supply chain has been interrupted coupled with record demand.  The number of first time snowmobile buyers is skyrocketing and the future of the sport hasn't looked this good since the boom in the 90s. 
So what does this mean for snowmobiling in the 2020-21 season? Along with the positive aspects of a growing sport there can be some drawbacks as well.  For one, we will see a lot of new and inexperienced riders out on the trail, with snowmobile safety courses being done nearly all on line with little or no in person testing combined with a number of adults who will just skip the safety course all together, we will undoubtedly see an increased level of stupid trail accidents- especially the annoying completely avoidable ones with people riding on the wrong side of the trail.  Trespassing issues will also be a concern as more uneducated people leave the trail to ride in restricted areas or on private property.  Lastly there will be an increased number of speed related injuries as riders exceed safe speeds or are unable to handle the performance of the high performance machines.  We have already seen this scenario play out this summer with a huge spike in ATV crashes caused by speeding, drunk driving, rollovers and too many riders on a machine. Additional issues that can be unique to snowmobiling are the potential for riders to become lost or stranded especially in bad weather, as well as increased avalanche potential as more riders flock to the mountains. We are also likely to see more exposure related complications as people head out unprepared without proper gear.
Despite the negative impact there is a huge upside- lots of new people being exposed to the greatest winter recreational activity in existence.  This is an opportunity for all of us to strengthen the snowmobile community and ensure the survival of our sport.  The backbone of snowmobiling has always been that it is an activity that can be enjoyed by the entire family and the family aspect of the sport has been listed as the #1 most enjoyable attribute of snowmobiling since it began.
A few things to remember out on the trail this year:  Make sure you have your lodging squared away as there will be a lot of people staying in hotels and motels.  Be aware of fuel stops- some businesses have closed due to the pandemic and where you once had fuel there may not be fuel available in that area any longer.  Pack some food and water with you, many restaurants and bars have restrictions or are flat out closed.  Be careful and slow down, there are likely to be a handful of idiots out there (even in a normal season) and there are going to be many more inexperienced riders on the trail.  Be prepared with emergency and survival gear, you never know when you or someone else will get in a bad situation.  And lastly, have fun!  Snowmobiling is all about having a good time and passing that good time on to others.  As the ultimate social distancing sport this has the potential to be a historic season, let's all get through it safe and healthy!!!