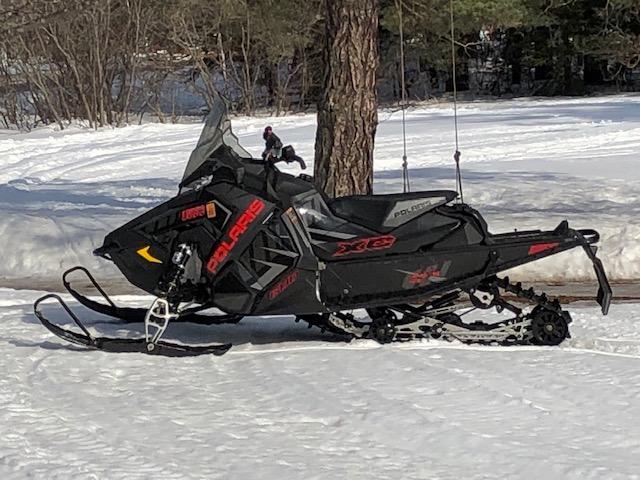 Hello Everyone!  It is June 21st, the longest day of the year.  From here forward the days start getting shorter and we creep ever closer to our favorite time of the year.  To celebrate here is a review of the 2020 Indy XC 800.  This should have been published back in April but lets just blame the Coronavirus for this being late.  So here you go:
Before I begin this review of the Polaris Indy XC I need to give you a brief back story.  I am a Ski-Doo guy, I have always been and always will be, so how did I end up on an Indy XC?  That is where the back story comes in.  I grew up riding Ski-Doos and when I moved back to Minnesota in the early 90's I assumed that I would hop right back on a snowmobile, but there was college, a house payment and a new baby that kept the snowmobile thing on hold for about ten years.  Once things calmed down and finances improved, my wife decided it was time we got back into snowmobiling.  I went out and bought my gear before I even bought a sled and, assuming I would buy a Ski-Doo, I even bought a yellow and black helmet.  The plan was to get a touring sled so my wife and I could ride and our 5 year old daughter could stay at home with the baby sitter.  After searching for a good used Ski-Doo Grand Touring I stumbled across a 2000 Indy 600 Touring sled that was in near mint condition at a price I could not pass up- so here I was decked out in Ski-Doo colors on a Polaris.
Shortly after buying the sled my daughter wanted to know what all the excitement was about with this new snowmobile thing, all it took was a couple of laps around the field behind our house and she was hooked.  At the end of the season my wife decided she would buy a sled for herself so that I could take our daughter on the two up and all three of us could be on the trail at once.  My wife, not being brand loyal, found a sweet 2001 Indy 500 with some aftermarket snocross suspension modifications and bought it for herself, now I was a Ski-Doo guy with two Polaris'.  Now fast-forward several years to my daughter getting her snowmobile safety certificate and wanting her own sled, having grown up on a Polaris her choice for her first sled was obvious- a 1999 Indy Super Sport 550, now I was a Ski-Doo guy with three Polaris' in my garage!   I knew someday I would be upgrading, and a Renegade was in my sights, that was until 2013 when Polaris came out with the new Indy.  My buddy bought one and the moment I sat on it it fit me like a glove, just the overall body position and handling it possessed had me sold.  In 2014 our 2001 Indy 500 met its demise and it was time to buy a new sled.  I debated between the Indy and a Renegade and in the end the 2015 Indy 600 SP won out primarily because after riding my buddy's Indy and my other buddy's Renegade the Indy just fit me better (and the price tag didn't hurt much either).  At this point I'm starting to think that maybe I'm turning into a Polaris guy even though I keep thinking of myself as a Ski-Doo guy. 
Now fast-forward to 2018 and the introduction of the Indy XC on the Axys Chassis, right away it caught my eye- specifically for the longer track and the ability to turn it into a two up at any time with the aid of a few attachments.  My Polaris loving friend bought a new XC for 2019 and as soon as I rode it I loved it even more than my SP.  After the 2018-19 winter ended, our old 2000 Indy 600 Touring was beginning to show its age and had become a constant nickel and dime money pit.  I sat down with my wife and told her all about the Indy XC and how it was prewired for a two up seat with heated grips, we don't ride two up as much anymore and our daughter is off in college but when she comes home she usually brings a friend and takes them out on the two-up.  We were starting to be less and less confident that the old 600 Touring could continue to hold up on some of our longer rides and not wanting to take the chance of being stranded my wife agreed that it was time to upgrade.  With the green light for a new sled I was off to the dealer to snow check my 2020 Indy XC.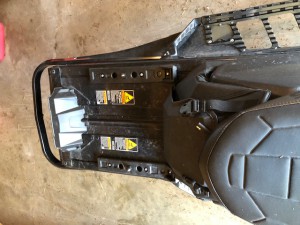 What I loved about the Indy besides the accessories were all of the other options Polaris offered, unfortunately I was under a strict budget and I made a list of needs and wants. I loved the Polaris build your ride where you could pick colors graphics and just about anything else you wanted.  After getting my colors set I went to the track and chose the 129 1.25" Ice Ripper. 
I Figured the 129 was a good compromise between trail and off trail riding.  As 75% of my riding is trail based and having rode with longer tracks I felt the 129 would give me enough length but not too much for the tight corners.  I also knew that the 1.25" lugs were a great trail height and were good enough off trail as well and the Ice ripper gave me the added traction of studs without having to stud the track.  Next up was the motor, I loved my 600 Indy and 90% of the time for the trails we ride in Northeast Minnesota the 600 was plenty fast enough, where my problems started with the 600 is every time we went off trail.  The 600 could get my fat butt through the snow but it was working very hard and just didn't have the power I wanted in the powder and now with a longer track with deeper lugs I knew I had to step up on the power plant, the question was do I go with the old 800 or the new 850?  Again, money was also a concern and the 850 was almost $1,000 more.  Did I really need to spend an extra grand for 50cc's? I decided I did not.  I know there are 850 guys out there screaming at their computer right now but the 800 has been a good motor for a long time and I'm happy with it.  I also got the high windshield because I ride regardless of how cold it is and I want a warm sled, then came the display gauge- I really liked the idea of the ride command gauge with all of the bells and whistles and maps and GPS but again it was another grand and I have ridden my whole life without any of that stuff so I figured I'd stay under budget and get the regular display. Then I tacked on the two up seat and a few other accessories and I was done.
Now all I had to do was wait.  The last time I ordered a sled in April it showed up in Late September so as September rolled around my excitement started to build, September came and went- no sled, but that's okay you have October, which also came and went- NO SLED.  Then November, half way through the month I called the dealer and they said it would be there before Thanksgiving, which came and went- then we got a huge dump of snow at the end of November for the first time in God knows how long and still NO SLED.  Here I was with the season actually starting on time but luckily my Indy 600 was still there for me.  The dealer was now also getting upset because their stuff was not in and they were getting crushed with calls from people wanting their rides.  I talked to one of our loyal snowmobietrail.com readers who said when he ordered his Ski-Doo a few years back he didn't get it until January!!! But he did say that once he got on it he forgot about being angry.  How could something you order in April show up half way through the season?  That's like ordering an RV in December and getting it in August, this was a true WTF moment for me.  Then finally the call came just days before Christmas that my sled was in.  My overwhelmed dealer got it uncrated prepped and ready to go in 24 hours so big Kudos to them.
I got the sled home and warmed it up with a few laps around the yard before I hit the field behind my house.  I had saved the powder back there for the new sled and right away I couldn't believe how well it performed.  I could stop it in the fluff and hammer it and it just dug itself out.  Then I hit the trail and couldn't believe how well it handled, it felt like it was glued to the trail and cornered as if it was on rails (oh and I forgot all about being angry that it was so late).  For the next 3 months I put the sled through its paces, deep snow, hard pack, frozen trail, extreme cold, you name it, I did it, and no matter what I threw at it it performed flawlessly every time.  By the end of the season I felt as though I may have found the perfect trail sled.  At least for me it felt that way.  So, in conclusion my review of the 2020 Polaris Indy XC 800: Kick Ass!