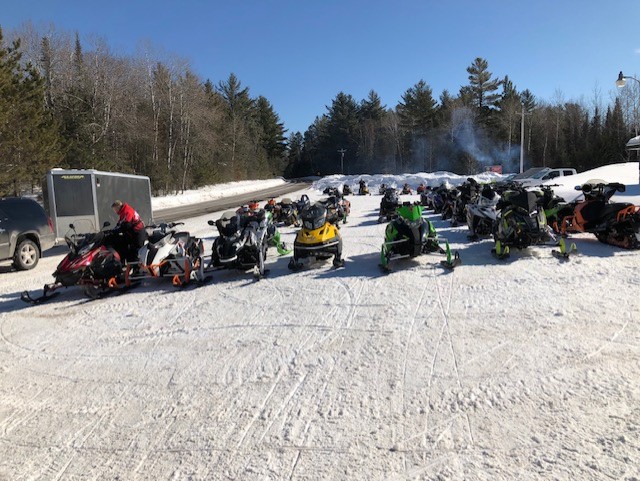 The Yeti Tour is a charity ride that raises money for the Northland Newborn Foundation, an organization set up to help babies and families who experience difficulties in the first few weeks of life.  The Yeti Tour has been helping newborns and their families since the ride was started in 2011 by Nate and Kelly Alvar of Duluth.  Snowmobiletrail.com has been a supporter of the Yeti Tour since its inception and I have ridden in this event every year.  My Yeti Tour 2022 experience actually started the night before the Yeti Tour.  After years of horrible weather and trail conditions for the ride, this year was set up to be perfect.  The weather was set to be in the 20's and the trails were in the best condition they have been in in two years, and we had an abundance of fresh snow on the ground.  I was so excited that I laid awake most of the night.  I got out of bed a half hour before my alarm was set to go off and thought "I have hardly gotten any sleep.  This is way too early to get up.  I'll just go back to sleep for another half hour…" We've all done it and you already know how that works out.  So, an hour later I am sleeping through my alarm and my wife is punching me in the back trying to wake me up.  I finally pop out of bed and scramble to get myself together.  Registration for the Yeti Tour started at 8:00 with the ride commencing at 9:00.  By the time I was ready to go it was 8:30 and I still had a 45-minute ride ahead of me just to get the staging area at the Island Lake Inn.  As I was about to fire up my sled my buddy Allen texted me and told me he just got to the lot by the Island Lake Inn where the ride starts and apologized for being late, thinking that I was already there.  I texted him that I was just leaving and hopped on my sled to get up to the Island Lake Inn.  I was greeted by a perfectly groomed Rice Lake Trail courtesy of the Duluth Drift Toppers snowmobile Club, onto another perfectly groomed Hermantown Trail courtesy of the Hermantown Night Riders, up to Fish and Island Lake and a beautiful trail laid down by the Reservoir Riders Snowmobile club.  We had so much snow and it has been so windy that I lost track of the trail markers going across Island Lake and relied on just my sense of awareness of where I was to find the Island Lake Inn, I only wound up about a half mile off course, but I got there by 9:15.
I was worried that everyone had already left, but as it turns out there were 60 riders registered and it took a while for everyone to check in plus several riders decided to take advantage of a tasty Island Lake Inn breakfast.  We watched a couple of groups head out and I left with the main group that included Yeti Tour Founder Nate Alvar and several other members of the Alvar Clan along with friends and relatives.  We rode out across Island Lake to the Reservoir Lakes trail which was also a beautiful part of the Reservoir Riders trail system (side note:  the Reservoir Riders trail system is worth a trip up to Duluth, there's lots of great terrain changes and lots of options for food, lodging and fuel in the area.  See the snowmobietrail.com Northeast Minnesota Blog February 2016 Archives for an in-depth analysis of the Reservoir Riders Trail System).  On the way our group started to split apart with Myself, Allen and Jake Alvar getting ahead of the pack; that is until I went into a turn and slid off the trail. I honestly have no idea what happened, one second, I'm on the trail
and the next second I'm off the edge buried in waist deep snow and I mean absolutely buried.  Luckily the rest of the group caught up to us, and an army of guys helped dig me out.  I can't thank them enough; I would have been digging most of the day trying to get out of there without them.  We stayed with the big group until the Normana pit where the three of us split off again on the beautifully, and I do mean beautifully groomed CJ Ramstad North Shore State Trail courtesy of the Drift Toppers Snowmobile Club.  From there we turned onto the Pequaywan Trail which, as is usually the case, was perfect, courtesy of the Pequaywan Area Trail Blazers.  I stayed at the back of the pack behind Jake and was able to witness him slide off the edge of the trail in a corner and puff down in a big deep trench of snow.  This made me feel pretty good because now I wasn't the only one who had gotten stuck.  I helped Jake dig himself out. By this time and having dug out two sleds from over three feet of snow I was bushed.  We beat everyone to the Pequaywan Inn except for two early groups that had gone on ahead to Hugo's.  We sat down for a Bacon Cheeseburger and beer fries and soon about 50 riders flooded into the Pequaywan Inn for lunch.
We ate and got ahead of the pack, heading out to the Brimson trail to ride to Hugo's to refuel.  The ride to Hugo's was uneventful but the temperature in the 20's and all of the recent snow had brought snowmobilers from all over the area out of the woodwork.  Aside from the 60 Yeti sleds there were an additional 36 sleds we passed going the opposite direction with a great many more in Hugo's parking lot.  After we left Hugo's, it seemed that there were more snowmobiles around every corner and the heavy traffic had taken its toll on the trail and it had started to develop some big body busting moguls.  I was also seeing a number of areas where riders had slid off of the trail into the deep powder on the edge.  There was a large group assisting one of these sleds that had slid off a turn and had dived deep into the woods.  There were about five or six guys working on getting them out and a rider before and after the corner slowing sleds down to make sure none of these good Samaritans got hit.  After passing this group of sleds there was another large group coming toward us on the straightaway, so we decided to pull off to the side to avoid riding through the bottleneck.  As we pulled off Jake puled just a few inches off of the packed surface of the trail
and down he went into the waist deep powder.  After laughing heartily in my helmet and feeling much less like a complete idiot for riding off of the trail earlier I was once again left with the task of helping Jake dig out, but this time Allen was there to help and came up with a much better plan of using manpower to literally lift the back of the sled onto the hardpack and use its motor in reverse to drag the front of the sled out as we assisted.  It worked perfectly and we were on our way.  The temperature had crept up to 28 degrees and now that combined with the punishing moguls and the workout, we endured pulling Jake out started to really amp up our riding temperature.  We stopped to open up our jacket vents and get a little more air flow going to cool us down.   Finally, we got to the Yukon Trail which had been again wonderfully groomed by the Voyageur Snowmobile club out of Two Harbors.  We rode up to the John A Brandt Memorial Shelter to hang out with about 40 other riders who were enjoying this crown jewel of the Yukon Trail.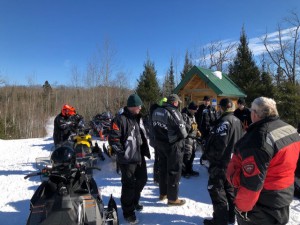 We left the shelter at about 1:30 and made the fifty-mile trek on the Yukon and North Shore Trail back to Duluth on absolutely fantastic trails that were holding up well in spite of the heavy traffic.  Later that night I drove out to the after party at the Island Lake Inn where we gave away a new Honda four-wheeler courtesy of RJ Sport and Cycle in Duluth and Yeti Tour 2022 came to a close raising a healthy sum of cash for the Northland Newborn Foundation.